In 1963, Ida Turner Tipton (1874-1964) wrote some memoirs, describing her early life in Texas and New Mexico. She and her husband, Rice S. Tipton, with their three children, Everett, Aubrey, and Opal Tipton, left Cisco County, Texas in 1904, and headed for New Mexico.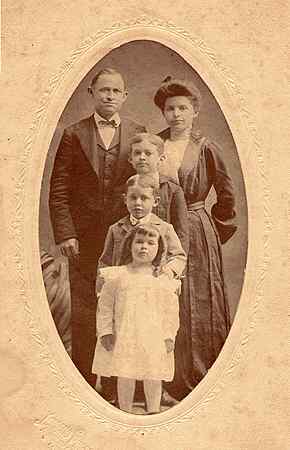 Rice and Ida Turner Tipton with children, Everett,
Aubrey, and Opal, about 1904.
Ida wrote: "When we moved to New Mexico, Mother and the children and I came via Southern Pacific, while Father with his chartered car came around the other way on the Rhode Island. We arrived in Alamogordo the same day -- a big surprise to all of us. We went up the mountain on the same little train. We were quite awed at the scenery and the switchback of the tracks -- also the S bridge."

" We had our first experience with deep snow in Cloudcroft. We had 30" both of our first winters. The first one, the snow would fall several inches deep, thaw a little during the day if sunny, then freeze over at night."

" There was open range when we first went out. The stock would stay in the hills in the summer when there was such fine grazing, then go down in the valley in the winter. Later, the government took over and had each man fence his acreage. This proved a great hardship on the stockmen for they owned only a comparatively few acres and depended on the government land for pasture."

"We had 400 acres, only 4 or 5 tillable. The man who bought it later (my brother, Buddie, bought it from us) planted it in gladioli for the market. The soil was rich leaf mold and the glads grew 5 and 6 feet tall with magnificent colors. There were worlds of ferns to ship with them which the florists used in many ways. It was quite profitable."

" We had a 3 or 4 months school down the canyon in summer. My sister-in-law, Mrs. Turner, taught it."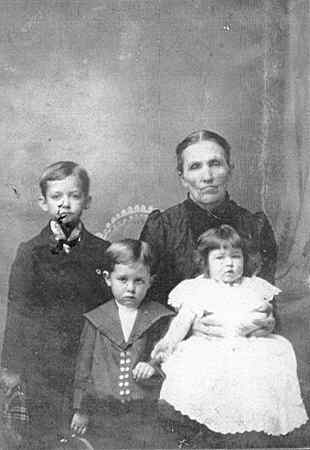 Sarah Lovenia Skinner Turner with her grandchildren, 1901.
Sarah Lovenia Skinner Turner's grandchildren, Everett Tipton, Aubrey Tipton, and Opal Tipton, who were the children of Rice and Ida Turner Tipton. Sarah is buried in the cemetery beside the highway in James Canyon.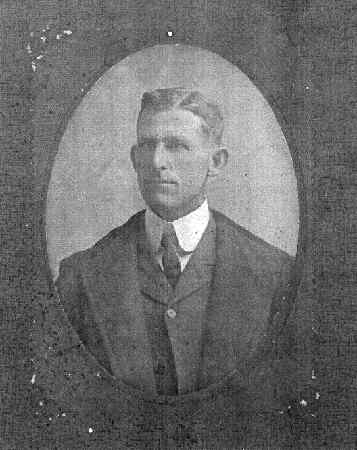 Cloudcroft resident from about 1900 - 1949, William Newton Turner.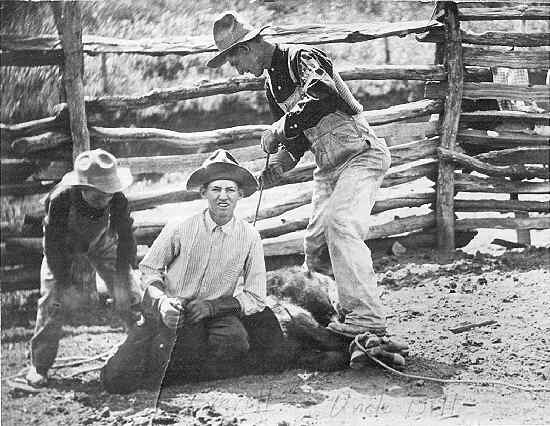 "Branding Day in Cloudcroft" ca. 1906.
Aubrey Tipton, Everett Tipton, and William Newton Turner (Uncle Bill).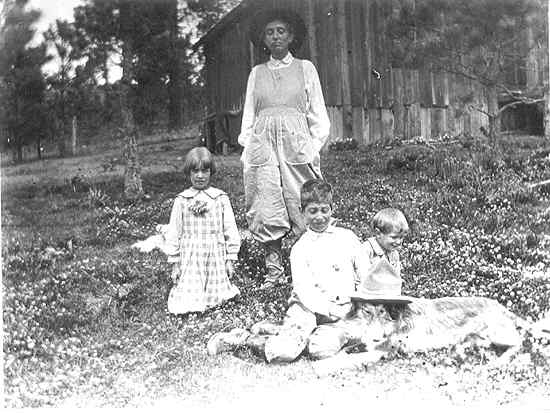 Cloudcroft residents, about 1917, William Newton Turner's family:
Mary Cornelia "Keenie Mae" Sellars Turner,
Mary Ida, William Sellars, and Ross Eugene Turner.
Mrs. Turner died in 1968. Mary Ida Turner married Harry Orlando Sammons in Alamogordo in 1929. She died March 9, 1999 in Corsicana, Texas. William Sellars Turner died July 2, 1994 in Amarillo, Texas. Ross Eugene Turner died Oct 17, 2000 in Portland, Oregon.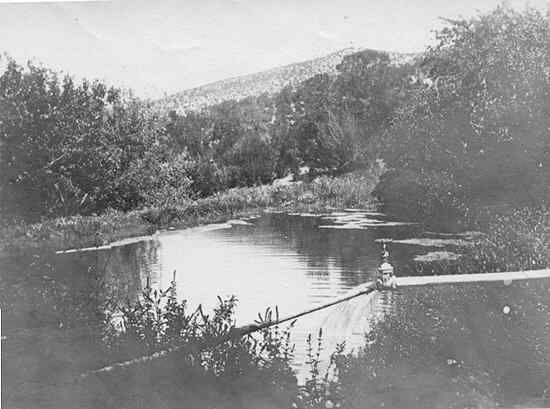 New water system to the Turner's Cloudcroft reservoir, about 1916.
Ida Turner Tipton wrote on the back of this photo:
"The left hand pipe leads to the house."
William Sellars Turner wrote in April, 1978: "While I was a very small boy, Dad and Uncle Tipton put in a one inch galvanized pipe line from a big spring in our pasture, bringing it by the then Tipton place home and on down to our house, which consisted of one big log house room and a box room on the west end. That is where we lived until my folks bought the Tipton property and we moved into that house."



The letterhead from the Cloudcroft newspaper.
Everett H. Tipton edited this paper, either just before or just after serving
in the Navy in World War I. Note the subscription cost: $1.50 yearly.
In a May, 1979 letter, Gertrude Painter said, "My husband, W. Add Painter, lived across the James Canyon road in James Canyon from the Tiptons.... Mr. & Mrs. Curtis B. Mitchell now own and live on the Tipton farm."

In July, 1978, Mr. Francis Carroll wrote, "I found that our best friends, Curtis and Mabel Mitchell, bought their 200 acre place from William Turner in the early or mid 30's. In my opinion they have one of the most beautiful spots in this area.... The place is on the north side of Hwy 82, four miles east of Cloudcroft and three miles west of our place.... The Mitchell's son, Richard, operates what is known as Chalet Camper Village on the southeast part of their land."
---
Photos and text copyright © 2001 by Helen Sills
Cloudcroft Online